---
Hot Springs Soccer Association is a 501c3 non-profit organization. The board, coaches, and team helpers of the Hot Springs Soccer Association are all volunteers.
The goal of the Hot Springs Soccer Association (HSSA) is to provide the youth of Hot Springs with an enjoyable soccer program. The guiding principle is that the experience of playing soccer should be fun; if this fundamental element is missing from any aspect of the program, children will drop out of the sport.
Various studies have shown that children want to play as much as possible. While they would obviously rather win than lose, players of all levels rarely mention winning as the determinant of whether they have fun playing soccer and whether they stay involved with the sport. Hence, while winning a game is a desirable objective, it should never be the justification for denying a player reasonable playing time, imposing burdensome practice requirements, or tolerating disrespectful or unsportsmanlike behavior towards fellow players, coaches, opponents, or officials.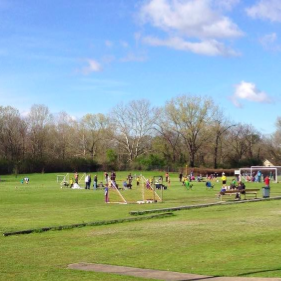 ---
---

Our field is off Hwy 270 (Malvern Avenue), East of Hot Springs behind Lake Catherine Footwear (old Munro Shoe Factory).
From the Little Rock: take I-30 west (towards Texarkana). Continue on I-30 to Malvern, and exit onto Highway 270 West (towards Hot Springs). Continue on 270 West for 11 miles. You will pass through 2 traffic lights. After the 2nd light, about a mile further, you will (hopefully) see on your left, either a Hot Springs Soccer sign, or a larger Munro Footwear sign. These signs are in our parking lot. You cannot see the fields from the road but there are steps leading down to the playing area.
Turn left into the parking lot, and you will see the soccer field entrance on the far left side of the parking lot as you face the building. If you come to a 3rd traffic light (Elmwood) you've just passed the fields.