---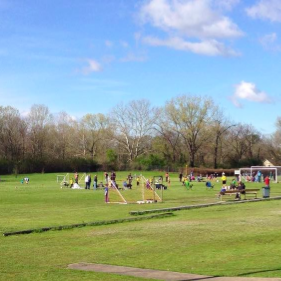 Hot Springs Soccer Association is a 501c3 non-profit organization. The board, coaches, and team helpers of the Hot Springs Soccer Association are all volunteers.
The goal of the Hot Springs Soccer Association (HSSA) is to provide the youth of Hot Springs with an enjoyable soccer program. The guiding principle is that the experience of playing soccer should be fun; if this fundamental element is missing from any aspect of the program, children will drop out of the sport.
Various studies have shown that children want to play as much as possible. While they would obviously rather win than lose, players of all levels rarely mention winning as the determinant of whether they have fun playing soccer and whether they stay involved with the sport. Hence, while winning a game is a desirable objective, it should never be the justification for denying a player reasonable playing time, imposing burdensome practice requirements, or tolerating disrespectful or unsportsmanlike behavior towards fellow players, coaches, opponents, or officials.
---
Board of Directors
2016-2017
President:
Joe LaCava
Vice President: Ben Pettigrew
Secretary: Linda Pettigrew
Treasurer: Melissa Cheresnick
Registrar: Angel Zeigler
Assistant Registrar: Ashley Thompson
Micro Soccer Commissioner: Ashley Thompson
Recreational Commissioner: Howard Cheresnick
Risk Management Coordinator: Rich Thompson
Volunteer Coordinator: Megan Mills
Field Preparation & Maintenance: Ed Argueta
Fundraising: Nathan Mills
Communication & Publicity: Position Currently Available
Uniforms: Ed Argueta
Referee Assignor: Vernon Higgins
Coaching Director: Howard Cheresnick
TOPSoccer Representative: Tim Jones