(3 years old - 2nd grade)
This program is designed to be a low pressure, enjoyable event on
Saturday mornings.
The morning consists of fun activities and drills that help teach
basic soccer skills,
followed by a game.
A love for soccer is our main goal so we do NOT keep score at this age level. All coaches are parent or high school volunteers.
We do not practice outside of Saturday mornings.
Micro is split into two times:
3 & 4 Year Olds 9:00a - 10:00a
Pre-K/Kindergarten 9:00a - 10:00a
1st & 2nd Grade 10:15a - 11:30a
---
A team t-shirt is provided for each player.
Shin guards
Size 3 soccer ball
Water bottle
Cleats are
optional
. We have used ones available for $5.00, or free with an exchange (limited availability).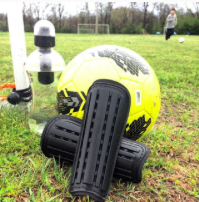 ---
FALL 2018 REGISTRATION IS MAY 1ST - JULY 31ST
---